At the Bahawal Nagar railway station, some local Muslims were anxiously waiting for the train which was bound to take the remaining Hindu and Sikh refugees to India from the state of Bahawalpur. At the railway station, the Muslims were in a state of grief and anger, chanting slogans of revenge. They tried to attack the train carriages with sticks and knives, but the state army and local police thwarted the attack of the rioters and drove them away from the platform. The rioters reduced the fire of revenge by raining bricks and stones. The administration succeeded in sending the train safely from Bahawal Nagar railway station.
The state of Bahawalpur was mainly an ally of the British. When the British government conducted a geographical survey to reduce the distance of Delhi from Karachi, the British experts estimated that apart from Ferozepur to Lahore and then to Bahawal Pur, if Ferozepur is connected to Bahawal Nagar (formerly known as Rojhan Wali Railway station) by a railway line, the distance between Delhi and Karachi will be further reduced. The laying of the railway line started in 1881 and in 1894 the railway line was laid from Samma Sata to Mandi Sadiq Ganj in the state of Bahawalpur and after the completion of other technical terms, the station was constructed in1894. Train service was started in 1898. At that time, although the common man in India was not well-educated, semi-literate primary, middle, and matric pass Muslims, Hindus and Sikhs were posted in the railways according to their education. At the suburban railway station of Bhawal Nagar in 1947, Sardar Jasper Singh was working as station master. Pakistan was established. Hindus and Sikhs were migrating from Pakistan to India while Muslims were migrating from India to Pakistan. The main source of migration was by train. During the migration, trains full of Muslim refugees came from the eastern Punjab cities of Fazilka, Ferozepur, Hindu Malkot, and local Muslims. When the Muslims went to give food, water, etc to the refugees, they were very saddened to see that there were corpses of not only men but also women in the train in a mutilated, torn, injured, and dead condition. The Muslims got sick by this sight. The massacre of Muslims in East Punjab was the one that Amrita Pritam expressed her grief over, saying:
"AJ AAKHAAN WARIS SHAH NU,
KITHON QBRAAN VICHO BOL………….
Ty aaj kitab-e- ishq da koy agla warka phol…………
Aik roey se dhee Punjab de to likh likh mary ven…..
Wey aaj lakha dheean rondyan teno Waris shah no kehn……..
Uth dardmanda dya dardyan uth tk apna Punjab……
Aaj bely lashan vichyan ty lahoo de bhry Chanab.'
Meanwhile, some local Muslims gathered and swore that they would take revenge. The deportation of the Sikh and Hindus subjects to India was arranged safely on behalf of the state of Bahawalpur, a special train for the refugees was arranged. It was publicly stated and then the train took the refugees and left from Bahawal Nagar station. The Muslims planned to attack the train at a distance of about 3 km from the Bhawal Nagar railway station (near the present Islamia University Campus). The train was just speeding up when another mob of Muslim rioters ambushed the train. The Muslims had gathered from nearby villages and were full of vengeance. They had made some barriers to stop the train. The thick trunks of trees were cut down and placed near the railway line. As soon as the train reached this place, in a few moments, with the help of oxen, the tree trunks were put on the railway line. The driver had to stop the train to avoid the collapse. The Muslims attacked and entered the coaches of the train. They had swords, knives, and sticks in their hands. The Hindu Sikhs who came in front of them or started resistance against them were killed and some got off the train to escape. The killing was still going on when a young girl fell from a train compartment and ran towards the engine of the train. A few rioters ran after her and tried to catch her. The girl's clothes were torn in several places and her head was torn. The girl managed to reach the engine of the train and cried loudly, " Uncle Ramzan, save me". Meanwhile, the engine driver Mohammad Ramzan and Khair Mohammad, who was throwing coal, saw the girl and reached to her. He hugged her and covered her head and body with a red cloth and shouted, "Beware, if someone touches the girl, I will cut off his hand." Khair Muhammad picked up the coal thrower, while Muhammad Ramzan brought a hammer.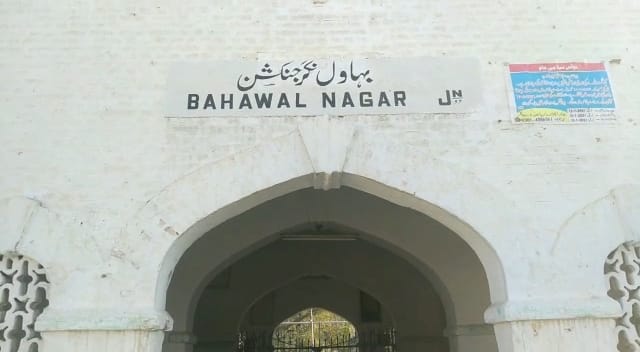 Two or three rioters came ahead said, "you are Muslims and she is a Sikh. Hand over her to us. This is the revenge." Waving the hammer, Ramzan said, "by God, whoever comes ahead, will not go back. She is the daughter of our friend Sardar Jasper Singh and so is ours."
Meanwhile, a military man got off the train and appeared to be approaching the engine. The hooligans slammed into the engine and ran away. For about half an hour, the rioters looted and tortured the train carriages. Many Sikh Hindus were injured and killed. Then, there reached the state Army and police from the railway station. On the other hand, When Jasper's daughter had got out of the coaches and run towards the engine and the rioters were following her, Sardar Jasper Singh got out of the coach and hid in the forest to save his other family. State Army and police beat the miscreants and they fled.
When there was peace, Ramzan and Khair Mohammad took the girl with them and searched for the girl's parents in all the coaches but could not find them. The girl was then handed over to Rafiq Ahmed, an employee of Bahawal Nagar railway station. The girl's name was Sukha Nand. Days turned into months and months into years, but Sukha's parents could not be contacted. Sukha was living in a Muslim family. Employees of the railway station thought about how long the young girl should be kept at home. Rafiq Ahmed and two other employees consulted their wives and mothers. They had the same questions in their minds. The girl's parents could not be found. What should be done to deal with this responsibility? The women suggested that the girl marry, but to whom? And religion was also an issue. However, Muslim women started talking to Sukha about marriage and explained to her that if her parents could not found, she was like her daughter and why she shouldn't get married? Sukha had no answer and began to cry. What could she do? These people saved her life.
Encouraged by Sukha s silence, the search for a suitable match was started. Nizam Din was a junior officer in the railways. He lived alone in the railway rest house and was still a bachelor. Rafiq Ahmed and his wife consulted and got information about the Nizam Din. A few days later, Rafiq Ahmad, met Nizam Din, walking towards the railway ground asked him, "How long will you live alone? Why don't you get married? We have seen a girl for you. If you agree, get married." Nizam Din was suddenly surprised and then said, "You are my elders, you must have thought well for me.".They returned from the walk-in a pleasant atmosphere. Coming home, Rafiq informed his wife about Nizam Din. The next day, Rafiq's wife called Sukha separately from the children and said, "Your uncle and other employees have tried to trace your parents but all the efforts are in vain. We are like your parents, now you are older, so we want to marry you and we are looking for a boy, but your consent is required." When Sukha heard this, he looked at the sky and cried. Rafiq's wife Zakia turned her hand on her head and kissed her. A few days later, Rafiq and Nazir, a railway employee, met Nizam Din in his room at the Railway Rest House and said that Sukha was the daughter of Jasper Singh, the former station master. She lost her family during the migration. Said Rafiq, "She lives in my house and now she is my daughter. We want to marry her to you." Nizam Din knew Sardar Sahib and knew a little bit about his departure but did not know that her daughter lived in Rafiq s house. Nizam Din said, "You are my elder, but she belongs to the Sikh religion." Nizam-Din told Rafiq Ahmed that he was ready for marriage but how the difference of religion would be resolved. Rafiq Ahmed told him to wait for a little. When he came home, he informed his wife about the decision of Nizam Din and His wife said that God will do good. A few days later, they both called Sukha and said, "We have chosen a boy for you. His name is Nizam Din. He is an employee in the railways. I want to ask your consent." Sukha had again no answer but tears.
One day Rafiq's wife, Zakia, saw that Sukha was in a good mood. She said, "Daughter, let me say something and accept it. We want you to accept Islam. Guru Nanak Ji Maharaj and the teachings of Islam have many values in common. The oneness of God is the most common holy element between these religions. THIS TIME Sukha answered that she would think about it. Zakia touched Sukha,s head with love and affection. One day, Zakia was teaching the Holy Quran to her children, saying, "Allah is the only One worthy of worship. He is the Master of all mankind and listens to His people" Sukha came and sat down and listening to Zakia's words carefully, she said, "Will God also listen to my request?" she cried and then said, " Aunt, recite the words you are reciting to me, too." Tears came to Zakia's eyes with joy. She recited the words of Kalma Tayyiba and Sukha repeated them smiling happily. When Rafiq Ahmed came home, Zakia told him the good news. Together they renamed Sukha Fatima. Rafiq Ahmed and other employee friends informed Nizam Din that Sukha had converted to Islam. Rafiq Ahmed and other railway employees told Nizam Din that now he should call his family members so that they could get married. Nizam-Din said that they are his elders. Then some railway employees played the role of elders on behalf of Nizam Din and Friday was set for the wedding. Arrangements for the wedding started at Rafiq Ahmed's house. Girls from nearby houses congratulated Fatima and in the evening they sang wedding songs and drums. Blush was applied on her face which brightened the complexion and spread light on her face. Fatima, although she had been mingling during this period, would sometimes get distracted, but Zakia would immediately turn her attention to work and marriage. Finally, Friday came. Nizam Din brought the Baraat with some railway employees, his friends, and two or three elderly women of the railway colony. The Baraatis danced to the beat of drums and celebrated the happiness. Rafiq Ahmed arranged a delicious lunch for them. Then the groom went to Rafiq Ahmed's house. Fatima's friends hid the groom's shoes and performed many rituals and laughed a lot. After Friday prayers, Fatima's left for her new home. As she was leaving, Fatima hugged her mother and father and cried a lot. Even the women and men present at the wedding could not control their emotions on this occasion and tears came to their eyes. Nizam Din had already been allotted a house in Railway Colony before the marriage.
Time passed, Fatima had children and they were living happily ever after. It had been 15 years since the marriage that one day Rafiq Ahmed came to Fatima's house. He was looking restless. Fatima greeted him and seated him and gave him a glass of water. After drinking water, he took out a piece of paper from his pocket. It was a letter. He gave the letter in Fatima's hand. Fatima opened the letter and started reading. It was written by Sardar Jasper Singh, her real father. He wrote, "Dear daughter, when the train was attacked by Muslim rioters some distance away from Bahawal Nagar railway station in 1947, we got out of the coaches after you ran away. They tried to kill your brothers. I came in front of them They stabbed me in the leg, but by the grace of Wah Guro, I ran to a nearby forest to save your mother and brothers, and we hid in a thicket of trees and bushes. Hiding for a while, the rioters chased them, and then they returned to the train. The fear was so great that we felt ourselves dead. I hid and looked at the train. The rioters were looting and killing. At the time of the commotion, I thought that you had been killed. I was not able to walk. Then as the night passed, we tried to escape. Hiding and traveling at night in a state of fear and hunger, after many days we reached India via Bikaner. Then your mother fell ill in your grief and there were such troubles that we could not make any search for you. After a long time, I came to be in touch with Rafiq Ahmad and I came to know that you were alive. I am writing this letter to you that we are coming to Raja Ranjit Singh's Samadhi in Lahore. Do come there on the fixed day. We will meet you at a fixed place. You can recognize us by the signs I am writing in this letter." This was not only a letter, it was the untold pain of fifteen years. Fatima's screamed, and started crying. The children also became frightened. Meanwhile, Nizam-e-Din also entered the house and got frightened. Taking consolation, he took the letter and read it and kept it in his pocket and said, "Don't cry, Fatima, we will go to Lahore to meet your parents."
On the Fixed day, Fatima, Nizam, and Rafiq left for Lahore from Bahawal Nagar. Fatima was wondering when the journey that started in 1947 would end. Throughout the journey, lost in thought, Fatima did not know when she arrived in Lahore. She was suddenly shocked when the conductor said, "Prepare to at Yadgar, Badshahi Masjid Stop." The short distance of Ranjit Singh's Samadhi from the road took him centuries. When Fatima reached the Samadhi, her parents and brothers were seen standing under the poplar tree. Fatima did not need any sign to recognize them. Fatima was running. She hugged her parents and then the sky (Chashm -e-Falak flak) saw her meeting and crying. She didn't know how long it was. Then Nizam and Rafiq consoled her and silenced her. Fatima stayed in Lahore for a week with her parents and siblings. Her parents asked her to go back to India. Fatima had only one answer. Now Pakistan is my home. Meanwhile, Rafiq Ahmed went to Bahawal Nagar and brought Fatima's children. Grandparents continued to play with them. Thus the day came for them to return to India and she returned to her home. Fatima's brothers Sardar Amr Singh and Bella Singh went to the United States for higher education and became citizens there and visited Bhawal Nagar several times to meet their sister. Fatima was content with her destiny. Today Fatima's children are Pakistani. This is not a single true story. Thousands of such true stories happened during the founding of Pakistan and India in 1947. Such tragic incidents have taken place with Hindu, Muslim, and Sikh women. However, where humanity survived, women were saved, otherwise, such incidents turned into tragedies. (Bhaga waliyo nam japo Mola nam).