Since the days of Socrates, art and literature have always been very effective ways to bring social and political change into stagnant societies. The political and ideological stance of a work of art and literature can never be undermined in any historical period but more specifically from the 20th century which saw a global political rivalry and every field of knowledge production became a battlefield of ideologies. The film also became a very effective tool for inculcating political and ideological stances in a coercive world. Dilip Kumar was also working in an era when the world was divided, not only geographically, but ideologically. He worked in more than 60 films in an illustrious career spanning five decades and his acting abilities achieved a touchstone status. Dilip sahib was undoubtedly an undisputed monarch of the subcontinent film industry and his demise created an irreplaceable vacuum in the cinematic universe. Condolences, tributes, elegies, and posthumous applause poured out in a large number but amid all those heaps of praise, some rare criticism also surfaced.Naseerudin Shah, a very well-known figure of Indian parallel cinema, expressed his complaints and disappointments in his article for some prestigious Indian news outlets.Naseerudin Shah accused Dilip Kumar of his hegemonic attitude throughout his dominating career and held him responsible for overshadowing many talented actors and killing their prospects of achieving some distinction in the film world. Shah, who has always been severe in the commercial film industry, also expressed his disappointment towards Dilip Kumar's indifference towards class differences and social issues prevailing in his times. Shah claimed that Dilip Kumar adopted the "art for art sake" maxim for his work in cinema and exploited the viewers with his emotionally charged on-screen portrayals and never even tried to expose the social realities of poor Indian society. According to veteran Indian actor,Dilip Kumar's work always remained indifferent to class consciousness and mostly focused upon the glorification of individual heroism. By keeping in view this criticism, I have decided to share some of the most iconic roles and movies that challenged the capitalist system and Dilip Kumar's work became a symbol of resistance in the film industry. My first pick would be B.R.Chopra's socialist drama,Naya Daur(1957)(A New Age) that was coincidentally premiered the same year when Mehboob's classic "Mother India" hit the cinema. Dilip Kumar's brilliant portrayal of a"tongewala" who stood against the industrialization and deprivation of laborer's rights won him the Filmfare award in 1957. The movie not only won critical and commercial acclaim it achieved cult status in that era of political turmoil in the whole world. Shankar (Dilip Kumar) a tongewala, in epic drama decides to challenge a bus owner for a race and consequently wins the race to secure the rights of laborers. The movie was a direct criticism of Nehru's industrialization policies and his bent towards the capitalist system. The film also glorifies the role of the cumulative struggle for the salvation of the underprivileged and underdogs of society. The music, dialogues, and imagery are full of revolutionary zeal and a proletariat spirit of sacrifice to overcome the challenges posed by the bourgeoisie.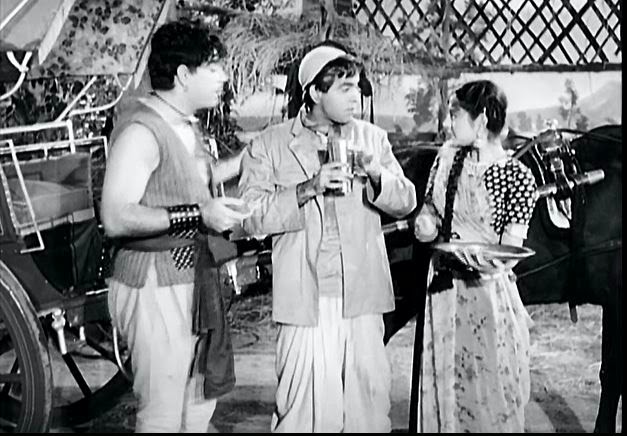 Naya Daur(1957) was originally released in black and white but after almost five decades it was converted into a colored picture. The next pick to counter Shah's argument would definitely be Dilip's only production in his 50 years long film career which is also one of his biggest successes Ganga Jamuna (1961). Nitin Bose's directorial social drama turned into massive success in cinemas and it is regarded as Dilip's best performance in a Bhojpuri peasant's role. Ganga Jamuna except winning critical and commercial success also stands as a staunch criticism of the feudal system of rural India. Ganga, a peasant, whose sole ambition is to see his brother Jamuna in a better social position devotes all his energies to his brother's education. Living in a feudal system, Ganga enters into a feud with the local landlord while attempting to save the honor of his love interest. As a consequence of this feud, morally corrupt landowner aligns with oppressive state machinery, accuses Ganga of theft and the court sends him to jail. The incident completely changes the social role of Ganga and he turns into a dacoit and a gang leader.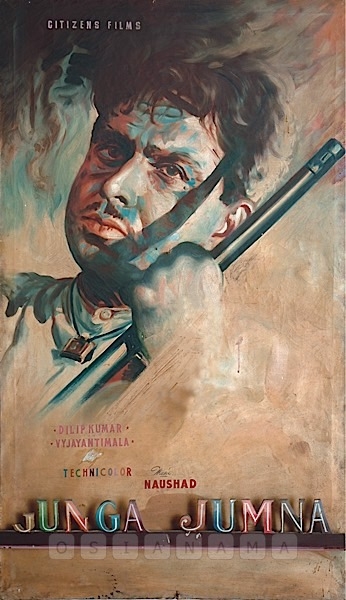 Ganga as gang leader loots money- landers and feudal, and in climax meets his tragic end by fighting his own brother who has become a part of state machinery. The film severely criticizes the social system and oppressive state machinery's alliance against peasants, laborers, and farmers. The story questions the role of bourgeoisie state machinery and system that never recognizes the rights of the proletariat and exploits the lower classes. Jamuna, Ganga's younger brother who later joins the police force, also becomes a part of that oppressive system that never gives any margin to underdogs of society and kills his rebellious brother. The film is a wonderful expression of class consciousness and an urge for the collective struggle against an alliance of feudal and bourgeoisie culture.
Dilip Kumar's Mashall (1984) is also a critique of the corrupt social system and his role as a journalist who tries to bring change through propaganda is one of his best on-screen performances. Kumar, the journalist, challenges the corrupt system and social institutions and faces the wrath of bourgeoisie oppression. Dilip's Footpath(1950) also exposes how social factors change the role of an individual and in corrupt system exploitation and oppression become imminent. Amia Chakraborty's drama Daag (1952) and Mehboob's tragedy Amar(1951) also criticize the capitalist system and bourgeoisie culture respectively and unearth how economic and social inequality changes the social role of individuals and led them to self-destruction. Mehboob's magnum opus, Aan(1952) also tells the heroic fight of a peasant to win a royal competition and Dilip Kumar's wonderful performance made him a folk hero and a symbol of the dignity of peasants, farmers and laborers. His performances in Shaheed(1948) and Kranti (1981) as a revolutionary are admired as some of the best roles in his illustrious career. Apart from his accomplished artistic career, Dilip Kumar was a great admirer of Ghafar Khan for his philosophy of non-violence. Dilip Kumar might not portray himself as a great champion of revolution and radical ideas, like many of his contemporaries including Raj Kapoor and Bilraj Sahni did through their works, his commitment to bring a change in society and to challenge the system through art and his artistic role can never be underestimated.